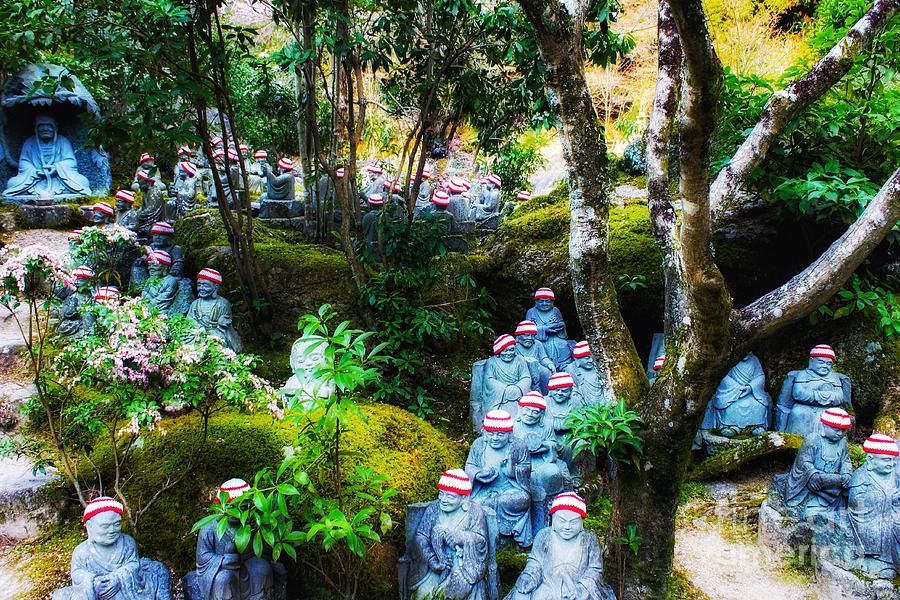 Medium
Photograph - Photography
Description
Ksitigarbha statues in Daishouin Buddhist temple on the island Miyajima.

Although Daishoin is not as well known as Itsukushima Shrine, it has many features that are well worth seeing. Located at the base of Mt Misen, Miyajima's highest peak, Daisho-in temple is an important temple of Shingon Buddhism. Kobo Daishi, the founder of the Shingon sect of Buddhism, had proclaimed Mt Misen as a holy place for the Shingon sect, thus beginning the practice of Buddhism on Miyajima. Kobo Daishi is said to have founded the Daisho in temple in 806 AD.

The 500 Rakan Statues.
They represent the 500 disciples of Shaka Nyorai.
As you climb the steps through the gate you can't miss the Rakan statues. These enlightened beings are known as arhats in Sanskrit and were the original disciples of the historical Buddha, called Shaka Nyorai in Japan. Look closely and you will see they are each unique in their expressions and poses. I love the little touches of humour and 'kawaii' at this temple, can you spot the little monk peeping over the tree roots, there are loads of these all over the temple.
Statistics
Viewed 304 Times - Last Visitor from New York, NY on 12/03/2022 at 7:10 PM