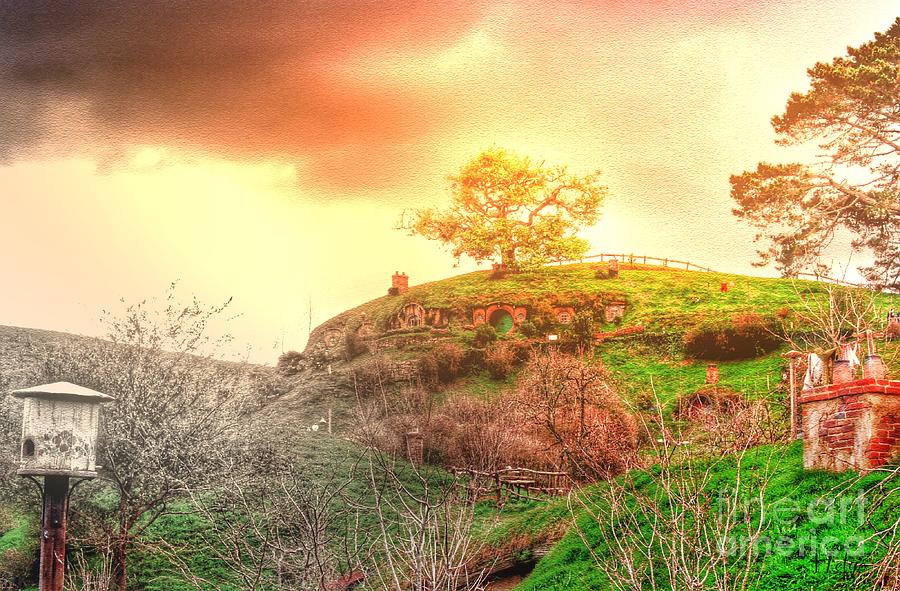 Title
Sunrise of Hobbiton
Medium
Photograph - Digital Art
Description
The Hobbiton film set was a significant location used for The Lord of the Rings film trilogy and The Hobbit film series. It is situated on a family run farm about 8 kilometres (5.0 mi) west of Hinuera and 10 kilometres (6.2 mi) southwest of Matamata, in Waikato, New Zealand and is now a Tolkien tourism destination, offering guided tours of the set.
In 2010 the set was rebuilt in a more permanent fashion for The Hobbit: An Unexpected Journey, filming for which began in 2011. McKellen reprised his role as Gandalf the Grey and was joined on the Hobbiton location by Martin Freeman, who remarked that the site "just looked like a place where people lived and where people worked".
Hobbiton was a village on a stream locally known as The Water, a short distance west of Bywater. It had a mill, and there was a small inn called the Ivy Bush at the eastern end of the village, on the road to Bywater. The part of the village on the north of the river was known as Hobbiton-across-the-Water. This included The Hill, with Bag End and the neighbourhood of Underhill on the south, and Overhill on the north of the Hill. The Hill Road runs north from Bagshot Row and continues onward to Overhill.
On the north bank of the Water in Hobbiton was "The Mill", with a large water-wheel and a yard behind it. Sandyman the Miller owned the Mill and operated it with the help of his son Ted Sandyman. Lotho Sackville-Baggins had the Old Mill knocked down and the New Mill built in its place. The New Mill was an ugly red-brick building with a tall chimney. It was bigger than the Old Mill and full of wheels and strange contraptions to increase production. The New Mill straddled the Water and poured pollutants into the stream. It was operated by Men, and Ted Sandyman stayed on to help them. When Saruman came to the Shire in September 3019, the Mill was no longer used for grinding grain but for some industrial purpose; and loud noises, smoke, and filth issued from it. After Saruman was killed and the Chief's Men defeated at the Battle of Bywater, the New Mill was removed.
Uploaded
February 25th, 2015
Statistics
Viewed 417 Times - Last Visitor from Kiez, 12 - Germany on 10/29/2022 at 2:15 PM